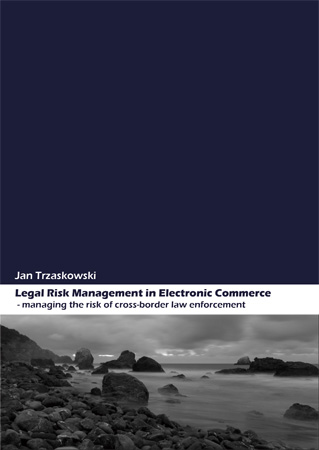 Paperback: 254 pages (17 October 2005)
Publisher: Ex Tuto Publishing, Denmark
Language: English
ISBN: 87-991018-0-7
List Price: EUR 45 + VAT (DKK 340 + moms)

Ex Tuto Publishing (Ex Tuto ApS)
Ved Amagerport 4
DK-2300 Copenhagen S
Phone: (+45) 25 37 02 05
sales@extuto.com
---
DESCRIPTION | HYPOTHESES | TABLE OF CONTENTS | READ THE BOOK BEFORE BUYING
This book deals with possibilities and limitations in cross-border law enforcement of unfair competition law. It also deals with how businesses can manage the risk of being subject to foreign law when pursuing commercial activities on the Internet (Legal Risk Management). The applied methodology adopts a business perspective and assumes a standardised business ('the Business') which carries out electronic commerce from an establishment in an EU member state.
Cross-border law enforcement is examined with focus on enforcement carried out by both public and private entities (public law enforcement and private law enforcement, respectively). The examination includes both enforcement through the judiciary (traditional law enforcement) and enforcement by other means (alternative law enforcement). Possibilities of risk mitigation are examined with focus on the geographical delimitation of Internet activities and on agreements concerning choice of forum (jurisdiction) and applicable law.
Jan Trzaskowski is Assistant Professor at the Law Department of Copenhagen Business School. He has previously dealt with the legal aspects of technology as an adviser to the Danish government and as managing partner in a Danish law firm specialising in new technology. This book is the author's PhD thesis. More information is available at www.legalriskmanagement.com.